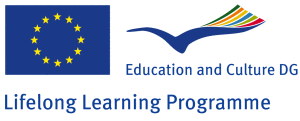 PROJECT DESCRIPTION
This website is based on the LEONARDO project "MIG-KOMM-EU - Multilingual Intercultural Business Communication Provided for Europe" - which is supported by the European Union.
The most important result of this project are blended-learning courses for business communication in the following languages: German, Estonian, Latvian, Lithuanian, Romanian, Slovak, Slovene, Czech and Hungarian.
The courses are based on a common concept, and they consist of websites which contain the respective online-offline course.
You can access' the language course by clicking the "Blended-learning Course Business Communication"-link. Courses in other languages can be accessed by clicking the flags of the partner countries.
The course typically consists of the following parts:
programmed private-study exercises;
exercises for the attendance period;
glossaries;
handbooks for teachers and students.
The course is enhanced by private tests, a quiz, audio books, podcasts/videocasts, blogs as well as WIKIs, all of which are freely accessible on the website. Examples of tests in business language can be accessed by clicking the ECL button. These tests can be taken at any of our partner institutions.
Additional and more in-depth information for teachers and students can be found in the special glossaries/guides on business language/business German (online-reference books, -dictionaries, and -glossaries on business language/business German; glossaries and dictionaries on tourism; glossaries on computing and reference books on PCs; guides on management, marketing, service; books on intercultural communication).
In addition, you can access the following information by clicking Links:
methods for teaching foreign languages;
business communication;
intercultural communication;
management;
marketing;
service.
If you click "Valorization" and have a look at the web statistics, you'll get an idea on how the project is put into practice.
The producers of the course are very interested in your opinion on this course. Please use of the RSS function, and also please contact us, possibly via Skype.
As you can see in the survey, the blended- learning course has been adapted, and is being used by other countries in addition to the original partner countries, and it has been further developed in its theory by other related projects (see: Cyprus: http://audiovisualmediablog.wordpress.com [1]).
The great interest we saw in the web statistics regarding our Blended-learning course for adults prompted us to offer access to compatible courses on special fields of business language and areas of interest, whose production and distribution we were or still are a part.